Top Message
We have spent the last 50 years in pursuit of creating tasty, healthy foods for the Japanese market with particular attention to safety and quality issues. We will devote the next 50 years to expanding our food and restaurant concepts throughout Asia in order to enrich the lives of people around the world.
---
Our Management Team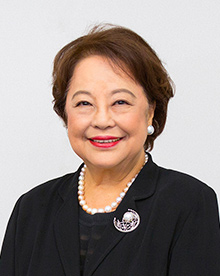 Merle Aiko Okawara, Chairman
Merle Okawara has been a member of the management team of DELSOLE Corp. since 1966 after graduating from University of Geneva. She has served as non executive director on the boards of Kameda Seika, Avon Products Japan, the Parco and MetLife Insurance. She also served as senior advisor to Morgan Stanley Japan Securities Co. Her civic activities include serving as past vice president of the American Chamber of Commerce , a member of the Advisory Council for the UN Office for Project Services, the Fulbright Commission, Merrill Lynch Diversity and Inclusion Council and is presently an advisor to the WFP. She has also served on several government advisory boards and received numerous awards. She has published two books, entitled When Women Create Companies and Business Women Leaders in the Japanese Food Industry.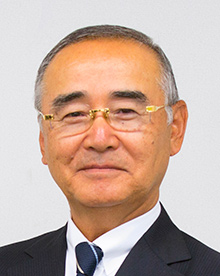 Takeshi "Shin" Okawara, Chief Executive Officer
Graduated with a BA in economics from Sophia University and a degree in Advanced Management from Harvard Business School. He began his career with the Japan Consulting Institute and later moved to Dai Nippon Printing. He entered Kentucky Fried Chicken Japan as the store manager of its first unit and eventually became Vice President of Kentucky Fried Chicken International for North Asia and served as President and CEO of Kentucky Fried Chicken Japan from 1984 to 2002. He was Chairman of Kentucky Fried Chicken Japan from 2002 until 2006. Upon his retirement he executed an MBO of the company's non core businesses which comprised of 150 restaurants, a food delivery business and counters in department store food sections. He became Chairman of DELSOLE Corp. in 2003, before becoming Chief Executive Officer in 2007. He served as advisor to Mitsubishi Corporation from 2002 to 2008. Shin Okawara served as President of the Japan Food Service Association from 1997 to 1999. He was decorated with the Medal with Blue Ribbon in 2003. Under his guidance the company received the Best Food Service Award from the Ministry of Agriculture, Fisheries and Forestry. In 2014, he was decorated by the Emperor with the Order of the Rising Sun, Gold Rays with Neck Ribbon. In 2019 he was appointed honorary consul of the Republic of Lithuania in recognition of his contribution to the bilateral relations between Lithuania and Japan.

Ryusuke Wada, President & C.O.O.
Ryusuke Wada received his BA in law from Sophia University in 1970 and joined Kentucky Fried Chicken Japan in 1971. He became Managing Director in 1984 and later became Senior Managing Director of the company. He joined DELSOLE in 2000 as President and COO.

Ernest M Higa, Director
Ernest Higa graduated with a BS from the Wharton School of Business at the University of Pennsylvania and received his MBA from Columbia Business School. He is presently Chairman, President and Chief Executive Officer of Higa Industries Co., LTD.; and Chairman and Representative Director of Wendy's Japan KK; and Outside Director of Shinsei Bank. He is also a member of Keizai Doyukai, and serves on the Boards of the Columbia Business School Board of Overseers, New Business Conference, US Japan Council- Japan, and Board of Trustees of Showa Women's University. He was named "Enterpreneur of the Year" by the New Business Conference in 1990 and was awarded by the Ministry of Agriculture for "innovation in the food industry" in 1998.

Keiji Yokoyama, Director, Food Business Unit
Keiji Yokoyama graduated from Osaka Gakuin University in 1982. Following a career at Narita coffee Co., Ltd., he joined DELSOLE Corp. in 1989. He became Corporate Officer & West Japan Branch Manager after becoming Nagoya Branch Manager in 2005 and Osaka Branch Manager in 2007. Since 2016, he has served as Sales Management Group Leader and became Director in 2019.

Yasushi Okawara, Director, Production & Development Unit
Yasushi Okawara graduated with a BA in law from Keio Gijuku University in 1986 and joined Mitsubishi Corporation. He became SVP / Living Essential Group of Mitsubishi Corporation Europe in 2011. He joined DELSOLE in 2019 as Corporate officer, Assistant to the President. He became Director in 2020.

Toshiharu Moriyama, Director, Food Business Unit
Toshiharu Moriyama graduated from Tokai University in 1980 and joined Tokyo Video Service Co., Ltd. Following a career at Zenchiku Co.Ltd., he joined DELSOLE Corp. in 1984. He became branch manager of the East Japan second branch in 2005 and became Corporate Officer in 2007. He appointed Director in 2021.

Shuichi Imbe, Director, Corporate Administration
Shuichi Imbe graduated with a BA in law from Tokyo University in 1990 and joined the Mitsubishi Bank (the current MUFG Bank). He became Managing Directer of Business Loan Division in 2016. He joined DELSOLE in 2019 as Acting General Manager of Corporate Strategy. He became Corporate Officer in 2020 and became Director in 2021.

Isabelle Hupperts, Director (Non-Executive)
Isabelle Hupperts has over thirty years of international management experience. As President for Japan and Asia Pacific for the Societe Generale of Belgium she led the holding's investments in the region in various industries. She served several Government Advisory Boards, Keizai Doyukai and was the first foreign woman appointed on the Board of a Japanese Public company. Advisor to Belgium's Ministry of Foreign Trade, Chairman of the European Chamber of Commerce, she received several awards including from the Governments of Belgium and France. She left SGB to create I.H.G.C Co. Ltd. She holds an MA from Sophia University and a BA from the University of Paris.

Andrijana Cvetkovikj, Director (Non-Executive)
Andrijana Cvetkovikj has a Doctoral Degree from Nihon University, an Honorary Doctorate from the European University, and an Executive MBA from the Fox School of Business, Temple University. She served as the first resident Ambassador of Macedonia to Japan (2014-2018), and prior to that as the Head of Digital Diplomacy at the Macedonian Ministry of Foreign Affairs. She is currently the Director for North Asia for the Economist Group Corporate Network, responsible for North Asia strategy, including programme development and client servicing across North Asia. As Executive Advisory Board Member of Cartier-Japan (2018-2020), she worked towards promoting women's entrepreneurship in Japan. She has been a speaker at the UN Conference for Climate Change, the World Economic Forum Japan, and other venues. Dr. Cvetkovikj was a visiting professor at Kyoto University (2012) and several other universities. She serves as an Advisor to the OIST Foundation (the Okinawa Institute of Science and Technology).Dr. Cvetkovikj is the Founder & CEO of BrioNexus, Co., Ltd., Tokyo based consultancy firm.